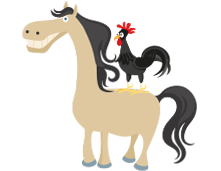 Summer camps: learn from sprouts
At the end of the school year, all children need to relax a little to regain the energy they need before diving fully back into the world of school.
The farm is the ideal place for children to experience unforgettable days in the company of others, make new friends and learn the secrets of country life. In the time we spend together, from 9 a.m. to 4 p.m., we will do workshops, educational games and small farmer's crafts: an opportunity to learn to love animals and respect nature. We also listen to your needs, so you can even arrive at 7.30 am and stay until 6 pm.
Don't lose your place! Cancellation is free of charge within 7 days of the start of the week. If it occurs later, 40% of the cost will still be refunded.